Email distribution list: Click here to subscribe.
The datum used for these positions is WGS 84. These positions should be moved 0.01 minutes Southward and 0.08 minutes Eastward for plotting on the older version of Admiralty Chart 1464 (OSGB 36).
The bar channel should not be used at any time other than 3 hours either side of High Water (Depending on sea state).
The wreck of the Grampian Castle lies in position 053° 07.30'N 004° 22.97'W.
Mariners are advised to exercise caution in this area.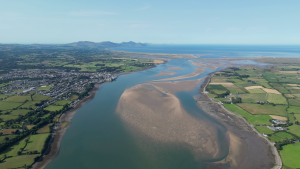 Buoy Positions – 20/04/2023
Aid to Navigation
Latitude
Longitude
Lights
LLANDDWYN ISLAND
SW ROCK BUOY
S CARDINAL
53ᵒ 07'.79 N
004ᵒ25'.05 W
Unlit
LLANDDWYN ISLAND
NE ROCK BUOY
S CARDINAL
53ᵒ 08'.04 N
004ᵒ24'.47 W
Unlit
SAFE WATER MARK
53ᵒ 06'.95 N
004ᵒ25'.14 W
L Fl.10s
C 1 STARBOARD
53ᵒ 07'.06 N
004ᵒ24'.67 W
Fl.G.5s
C 2 PORT
53ᵒ 07'.14 N
004ᵒ24'.38 W
Fl.R.10s
C 3 STARBOARD
53ᵒ 07'.19 N
004ᵒ 23'.84 W
Q.G
C 4 PORT
53ᵒ 07'.15 N
004ᵒ23'.03 W
Q.R
GRAMPIAN CASTLE
53ᵒ 07'.26 N
004ᵒ 22'.96 W
Fl(4) Y10s
C 5 STARBOARD
53ᵒ 07'.14 N
004ᵒ23'.37 W
Fl.G(2).5s
C 6 PORT
53ᵒ 07'.16 N
004ᵒ21'.91W
Fl.R.5s
MUSSEL BANK
53ᵒ 07'.22 N
004ᵒ20'.93 W
Fl.R(2).5s
C 8 PORT
53ᵒ 07'.62 N
004ᵒ19'.45 W
Fl.R.3s
C 10 PORT
53ᵒ 08'.02 N
004ᵒ18'.50 W
Q.R
C 7 STARBOARD
53ᵒ 08'.18 N
004ᵒ18'.13 W
Q.G
C 12 PORT
53ᵒ 08'.50 N
004ᵒ17'.38 W
Fl(2)R.10s
C 9 STARBOARD
53ᵒ 08'.55 N
004ᵒ16'.92 W
Fl.G.2s
CHANGE BUOY
S CARDINAL
53ᵒ 08'.81 N
004ᵒ16'.74 W
VQ(6)+LFl 10s
SEIONT RIVER
BIFURCATION
53ᵒ 08'.51 N
004ᵒ16'.75 W
Unlit
TRAETH GWYLLT
STARBOARD
53ᵒ 09'.23 N
004ᵒ16'.12 W
Fl(2)G.10s
C 13 STARBOARD
53ᵒ 09'.54 N
004ᵒ15'.90 W
Fl(4)G.10s
C 11 STARBOARD
53ᵒ 09'.88 N
004ᵒ15'.63 W
Fl(2)G.5s
C 14 PORT
53ᵒ 10'.23 N
004ᵒ15'.41 W
Fl.R.5s
C 9 STARBOARD
PORT DINORWIC
53ᵒ 10.65 N
004ᵒ13'.95 W
FL(3)G.10s