Local Notice to Mariners 01/2021
03/01/2021 – Y Fenai – Siart 1464 – Menai Strait – Chart 1464
Menai Strait – Swellies
Cynghorir morwyr mae'r Gardinal De "Craig Swelly" heb golau.
53ᵒ13.16′ Gog 004ᵒ10.45′ Gor
Cynghorir morwyr i fordwyo gyda gofal yn yr ardal hon.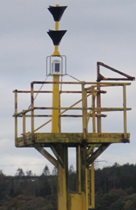 Mariners are advised that the the Swelly Rock South Cardinal is unlit.
Present position: 53ᵒ13.16′ N 004ᵒ10.45′ W
Mariners are advised to navigate with caution in this area.