Local Notice to Mariners 02/2022
28/03/2022 – Y Fenai – Siart 1464 – Menai Strait – Chart 1464
Bont Britannia Bridge
Nid yw'r goleuadau ar y marciau sefydlog ar y drafnidiaeth 231ᵒ o dan Bont Britannia yn gweithio.
53ᵒ12.89′ Gog 004ᵒ11.08′ Gor
Cynghorir morwyr i fordwyo gyda gofal yn yr ardal hon.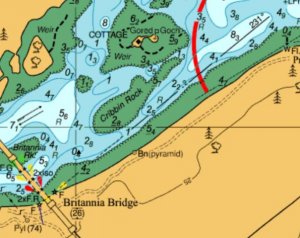 The lights on the fixed marks on the 231ᵒ transit below the Britannia Bridge are not working.
53ᵒ12.89′ N 004ᵒ11.08′ W
Mariners are advised to navigate with extreme caution in this area.