Local Notice to Mariners 22/2021
22/07/2021 – Y Fenai – Siart 1464 – Menai Strait – Chart 1464
Menai Strait
Mae cymhorthydd mordwyo drots dro Starbord "Caernarfon" Fl G 5s ar ei safle yn y lleoliad isod.
53ᵒ07.881′ Gog 004ᵒ18.621′ Gor
Cynghorir morwyr i fordwyo yn ofalus iawn yn yr ardal hon a rhoi ystyriaeth ddyledus i NtoM 21/21 o ystyried bod C7 oddi ar y safle a bydd mewn safle newydd.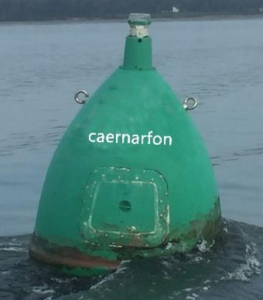 Temporary Aid to navigation Starboard "Caernarfon" Fl G 5s is on station in the position below.
53ᵒ07.881′ N 004ᵒ18.621′ W
Mariners are advised to navigate with extreme caution in this area and give due consideration to NtoM 21/21 given C7 is off station and will be stationed in a new position.