Local Notice to Mariners 24/2019
10/09/2019 – Y Fenai – Siart 1464 – Menai Strait – Chart 1464
Ynys Llanddwyn Island
Ar ddydd Sadwrn a dydd Sul 14 ydd ac 15 ed o Medi mae Triathlon a Duathlon Sandman yn cael cynal yn ardal Ynys Llanddwyn.
Cynghorir Morwyr y bydd ras nofio yn yr ardal Ynys Llandwyn.
Mae mordwyo y tu mewn i'r ardal GLAS yn gwahardd yn llym yn ystod yr amseroedd rasio.
Amseroedd Rasio
14/09/19 0900-1330
15/09/19 0900-1330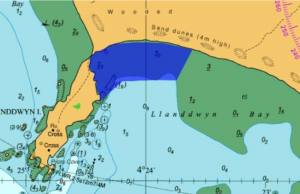 On Saturday the 14th and Sunday the 15th of September the Sandman Triathlon and duathlon is taking place near Llanddwyn Island.
Mariners are advised that the swimming portion of the Triathlon will be held with the area marked blue below.
Navigation inside the BLUE area is strictly prohibited during the racing times.
Race Times
14/09/19 0900-1330
15/09/19 0900-1330