Local Notice to Mariners 29/2021
03/10/2021 – Y Fenai – Siart 1464 – Menai Strait – Chart 1464
Menai Strait
Nid i'w cymhorthydd mordwyo Starbord (Y Felinheli) Rhif C9 Fl.3.10s ar ei safle.
Safle presennol: 53ᵒ10.073′ Gog 004ᵒ13.843′ Gor
Adroddir bod y cymhorthydd mordwyo yn nofio yn rhydd. Cynghorir morwyr i fordwyo gyda gofal.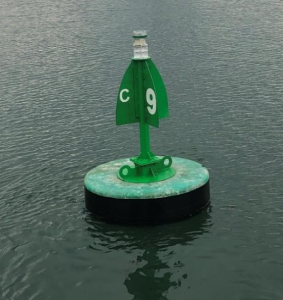 Aid to navigation Starbord No C9 (Y Felinheli) Fl.3.10s is not on its appropriate station.
Present position: 53ᵒ10.073′ N 004ᵒ13.843′ W
The AtoN is reported to be adrift. Mariners are advised to navigate with caution.