Local Notice to Mariners 04/2022
30/03/2022 – Y Fenai – Siart 1464 – Menai Strait – Chart 1464
Pwynt Abermenai Point
Cymorth Mordwyo Pwynt Abermenai yn goleuo Beacon Fl. WR. 3.5s 6m 3M wedi'i dynnu ac o ganlyniad heb ei oleuo i ganiatáu gwaith cynnal a chadw.
Rhagwelir y bydd y gwaith wedi'i gwblhau erbyn 04/04/2022
53ᵒ07.62′ Gog 004ᵒ17.72′ Gor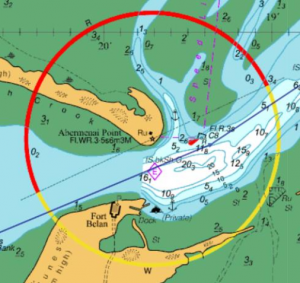 Aid to Navigation Abermenai point lighted Beacon Fl. WR. 3.5s 6m 3M has been removed and consequently unlit to allow maintenance works.
It is envisaged the works will be completed by 04/04/2022.
53ᵒ07.62′ N 004ᵒ17.72′ W