Local Notice to Mariners 05/2022
05/04/2022 – Y Fenai – Siart 1464 – Menai Strait – Chart 1464
Pwynt Abermenai Point
Mae Cymorth Mordwyo Pwynt Abermenai yn goleuo Beacon Fl. WR. Mae 3.5s 6m 3M wedi'i ailosod ac mae'n dangos ei nodweddion priodol.
53ᵒ07.62′ Gog 004ᵒ17.72′ Gor
Cynghorir morwyr fod Rhybudd Morwriath Lleol 04/2022 nawr wedi'i ganslo.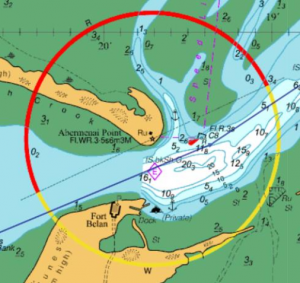 Aid to Navigation Abermenai point lighted Beacon Fl. WR. 3.5s 6m 3M has been reinstalled and is demonstrating its appropriate characteristics.
53ᵒ07.62′ N 004ᵒ17.72′ W
Mariners are advised that Notice to Mariners 04/2022 in now cancelled.