Local Notice to Mariners 08/2023
25/05/2023 – Y Fenai – Siart 1464 – Menai Strait – Chart 1464
Bar Caernarfon Bar
Ni iw cymhorthydd mordwyo "Graig Gogledd-ddwyrain" Ynys Llanddwyn Cardinal De, Melyn a Du ar ei safle priodol.
53ᵒ08.04′ Gog 004ᵒ24.47′ Gor
Cynghorir morwyr i fod yn ofalus iawn yn y ardal hwn.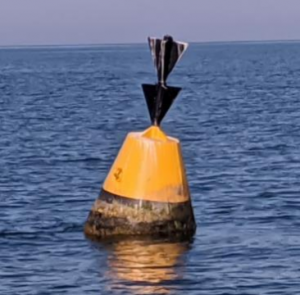 Aid to navigation Llanddwyn Island "North East Rock" South Cardinal, Y.B is off station.
53ᵒ08.04′ N 004ᵒ24.47′ W
Mariners are advised to exercise extreme caution in this area.